How do you stay inspired while your freelance business is slow?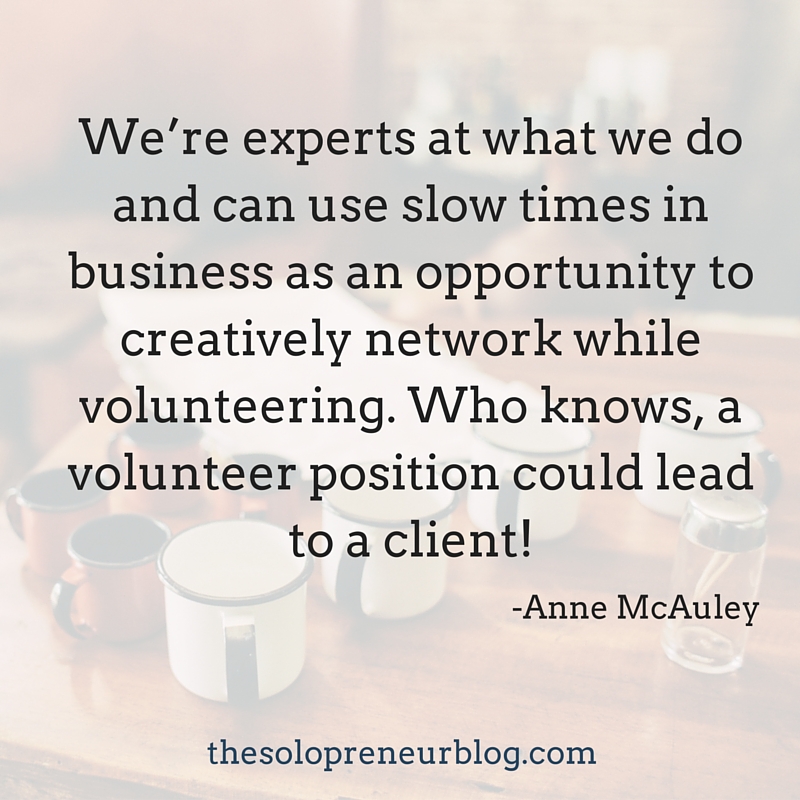 As a solopreneur or freelancer, there are times when business is slow. It's just the nature of the beast. How we handle this time can make the difference between success and having to get a j-o-b to make ends meet. In The Freelancers Guide to the Galaxy infographic below, FreshBooks calls this time the Land of Peaks and Pits.
Stay motivated and inspired while business is slow by engaging in these activities:
Stay Away from the Time Waster's Black Hole. Television and the internet have been called the black holes of productivity. While I try to stay away, there are days (especially slow business days) that I get caught watching tv and scanning the interwebs. To get out of the black hole, I listen to music, set timers, and block time for breaks instead of wasting the day away. Even if it's one hour to clean the house or fold laundry, I am focused and productive.
Volunteer. Working alone can get me feeling like I am in the Isolation Zone. Giving back to the community is a great reason to leave the home office and give back to the community. We're experts at what we do and can use slow times in business as an opportunity to stay inspired and creatively network while volunteering. Who knows, a volunteer position could lead to a client!
Planet You. Think about why you became a freelancer. Maybe you wanted to be your own boss or create your own products and services. I became a freelancer because I was tired of working for other people. I wanted a Planet Me where I make (and break) the rules. When business is slow, I make the choice to get ahead on my own blog posts, marketing, FreshBooks invoicing, accounting, or just take an afternoon for myself. It's up to me.
Reconnecting. Use slow time to reconnect with former clients or networking contacts. Ask how they're doing. Set up a coffee meeting to just chat. Almost every time I've done this I've gotten a project or referral. Not only that, it makes me feel better about my business and life to just get out of the house and reconnect with people I know, like, and trust.
To-do list. Is there a project you've been pushing off because you need to focus on client work? Now is the time to tackle the to-do list! Start your newsletter. Write a blog post. Use Canva to create graphics for social media or blog posts. Take a painting class that you've always wanted to take. You've got the time to get something done that's been nagging you for a while.
While business is slow you have opportunities to volunteer, get ahead on business activities, meet with contacts, and knock things off your to-do list. Don't get sucked into the black hole! Make this time productive by staying inspired.