Why Should I Use An Editorial Calendar? #TheOrganizedWriter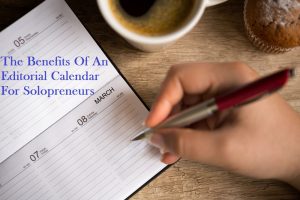 "Why should I use an editorial calendar?" It's a question I answer several times a month when I am talking with both prospective, and current, clients. The answer isn't "because I told you to."
Regardless of the entrepreneurial endeavor you're undertaking, if blogging and social media are part of your marketing plan (and they should be) an editorial calendar takes away the "fear of the blank screen" and makes your blogging and social media updates easier.
Why use an editorial calendar?
It is a powerful tool for writers and non-writers. In fact, if you're a non-writer, taking the time to put an editorial calendar together will make the time spent crafting content less stressful. If you write all the time for your business an editorial calendar keeps you on track and makes it easier to pen content when you're under deadlines or other solopreneur stressors.
If you haven't embraced the productivity benefits an editorial calendar brings, here are some of the benefits to consider.
Writing fresh content is not easy
Whether you've been writing for decades or a week, writing fresh content may not be the easiest part of your day. You may also run into the "have I already written this post?" syndrome. After a while, content runs together. Having an editorial calendar can help prevent that.
Keeping track of your content on an excel spreadsheet is a great way to
track what you've written and what you want to write. You can also keep your calendar in a WordPress plug in or on a notebook. It doesn't matter where you keep it, it just matters that you keep one.
Editorial calendars help you focus
Themes for your blogging and social media should focus on what the readers want and expect from you when they come to your blog.
Your editorial calendar should help propel you forward as the expert in your niche. Writing to a theme doesn't mean you are stifling your creativity it means you are preparing to share your expertise on your niche topics throughout the year. It's a win-win for you and your clients.
Set up your editorial calendar
Don't feel that you have to wait until January 1 to kick off your calendar. If you're reading this in July, then you can start your editorial calendar from the day you read this and for the rest of the year.
Quickly fill in topics you want to blog about.
Look for holidays or obscure celebrations that fit into your business niche, and fill those into your calendar. Holidays can lead to great traffic for your blog because you're writing about something timely and trending.
Fill in the overarching monthly theme, ie. January
is the month you've chosen to blog about, "how to choose the best accountant for your business." (Note: you're blogging about this because you are an accountant)
Once you've chosen the theme, fill in the days of the week in that month on which you will blog with topics that enhance and expand
Use your editorial calendar to track your keywords and ideas for SEO-optimized headlines for your blog posts
Editorial calendars help with your publishing schedule
How do you get your readers coming back for more? My giving them content they want to read AND on a schedule they can rely upon. If your readers have gotten accustomed to seeing a new blog post from you every Monday, Wednesday and Friday, fulfill their needs and stick to that schedule.
When filling in the editorial calendar make certain you have a headline or article idea for each of the days on which you blog.
Use your editorial calendar, too to fill guest blogger slots on your site.
Use editorial calendar to market yourself on social media
Note your social media platforms on the calendar and check off the dates that you've updated your social media with information from your blog.
If you pre-write or batch blog, grab a sentence or expand upon an idea from a blog post and use that to write and schedule social media status updates. If you've done this, you give yourself breathing room and this is especially helpful if you have a week where you are traveling to networking events or off-site client meetings.
NOTE: You may need more than one editorial calendar. This depends upon the type and amount of blogging you do. I currently maintain an editorial calendar for each of my clients, one for my personal blog and one for my pet blog; without those calendars I would
be constantly scrambling for topics every time I sit down at my keyboard – with
them, writing is a breeze.
Do you use an editorial calendar? Is it helpful?